Upstairs Circus LoDo is Hiring a Store Manager!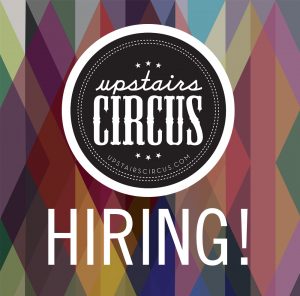 Upstairs Circus is Hiring a Product and Environment Store Manager for our Lower Downtown (LoDo) Denver Location.
Are you a DIY-project-loving, detail-orientated creative who has management experience in the Service or Hospitality Industry?
We've got the job for you!
Upstairs Circus is seeking a full-time Product and Environment Store Manager to co-manage our Downtown Denver location. This position focuses on the management of environment, products and inventory, and shares customer service and staffing responsibilities. The Product and Environment Store Manager will collaborate with an already-in-place Co-Manager who focuses on event and reservation booking.
About Upstairs Circus
Upstairs Circus is a bar-meets-shop-class concept where people can gather together to create unique leatherworking, woodworking, jewelry making, D.I.Y., art & design projects while enjoying
craft cocktails, beer & wine.
Upstairs Circus gives its patrons the time, supplies, tutorials and assistance to make something amazing- they simply need to add their own twist of Circus to make their projects
one-of-a-kind and truly spectacular. See: www.upstairscircus.com to learn more.
Our mission at Upstairs Circus is to inspire and empower ingenuity and creative experimentation through hands-on, cocktail-fueled, social maker experiences delivered in a design-forward, hip, lively bar environment.
Job Summary
Ensures that all store operations run smoothly at all times and follows Upstairs Circus brand standards for: Customer Experience, Environment, Staff, Products & Event Management.
Compensation
Base Salary + Tips = ~$50k/Year
15 days of Paid Time Off / Year (accrued)
Weekly Schedule (Approximate)
Full Time: ~40-hours/week
Tuesday-Friday (daytime): 1pm-6pm
Tuesday-Friday (evening): 2-3 evening shifts, 6pm-11pm
Saturday: 10am-6pm or 6pm-12am
Sunday-Monday: Off
Responsibilities Include:
Staff Management
Leads staff recruiting, hiring and training initiatives
Ensures staff scheduling needs are fulfilled every week
Controls labor costs by scheduling the appropriate number of staff per shift
Delegation & management of daily staff duties
Customer Experience Management
Ensures all activities during Project Socials meet Upstairs Circus brand standards
Ensures every customer leaves Upstairs Circus happy and with a project they are satisfied with
Environment Management
Ensures entire store is clean and well organized at all times
Ensures ambiance is entertaining and appealing to customers at all times (decor, music, etc)
Ensures all equipment is properly maintained and in proper working order at all times:  Ice machine, dishwasher, refrigerators, soda guns, HVAC, lighting, electrical, plumbing, audio, video, security, etc.
Product Management (Projects & Bar Program)
Inventory management – tracking & weekly ordering or both project supplies and bar supplies
Project quality control & improvement
Controls product costs (COGS) by ordering the appropriate amount of inventory each week
Reservations & Customer Service Management (Supporting Role to Co-Manager)
Communicates with customers via phone, email and in person to book events & confirm reservations
Promptly and professionally responds to customer inquiries, comments daily
Manages weekly seating chart and reservation calendar
Requirements
Available nights and weekends (specifically Saturday)
Service industry experience (server or bartender preferred)
Management experience in retail or service industry
Experience coaching staff
21 years or older
Friendly and outgoing personality
Responsible self-starter
Problem solver
Must love all things Art, Design and D.I.Y. related
TIPS Certification (can be taken once hired)
To apply, please send the following to talktous@upstairscircus.com BY NOV 26
– Resume and cover letter (or cover email)
– Picture of a DIY, art or design project you have completed
– In the subject line of your email, please write: YOUR NAME: Store Manager Application
Interviews will begin November 27. Position Ideally Begins December 4.
INCOMPLETE APPLICATIONS WILL NOT BE CONSIDERED.
LOCAL CANDIDATES ONLY.
LoDo Location: 1500 Wynkoop St. #100, Denver, CO 80202